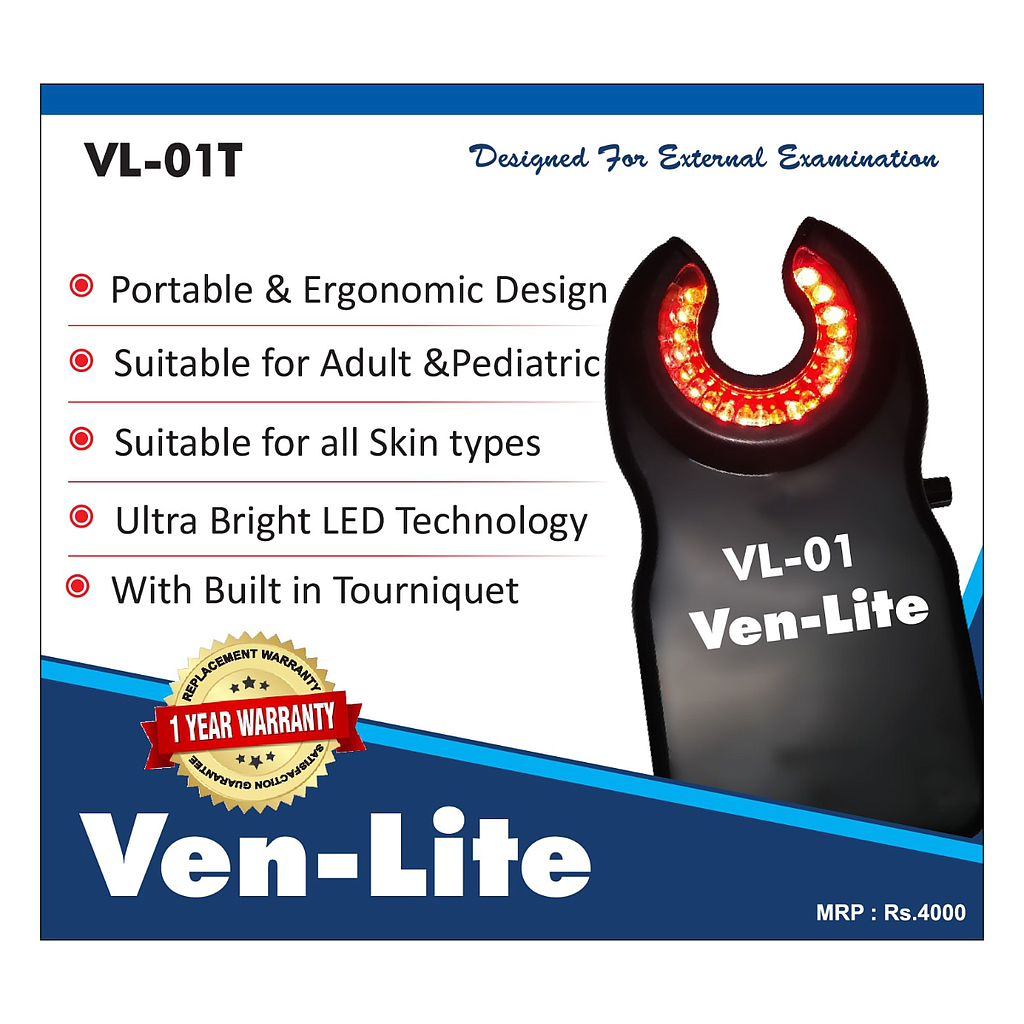 OptraMed Vein Light
---
All Age & Skin Type
Compact / Pocket Size
Black Color
Radiation Free
2 AA Battery Included
Lightweight
Full Warranty
---
Terms and Conditions
30-day money-back guarantee

Shipping: 2-3 Business Days
Vein Light the best vein finder for vein access for all patient skin type, size and ages. The only one handheld portable vein finder on the market. Not only does it find your veins it help access them resulting in a one stick success. 
New & portable hand held pocket trans illuminator vein finder device 3 IN ONE extremely useful for Infant ( newborn) Paediatric & Adult .
useful device at times of difficult situation where vein access becomes a challenge. can help or assist in detection of desired vein and highlight vein bifurcation.
This device can be used in various specialties like ANAESTHETIC , PAEDIATRIC , ONCOLOGY, NURSING Homes , PATHOLOGY LABS , Nephrology BLOOD BANK , OPERATION THEATRE , ICU , NICU ETC where phlebotomy / I V calculation & blood collection is needed on urgent basis.
Application:-
Adults/Children
Number of LEDs 20
Color of LEDs Orange (10) + Red (10)
Device Color black
Number of Switches 1 Device turn on/off
Ring Diameter (mm) 21
Warranty 12 Months
Batteries 2 nos AA 1.5V
Battery Life (min) 24 to 30 hours non stop
Practices approved
Weight 70 gram with battery
Size (mm) L x B XH 88 x 56.5 x 21.3
APPLICATION --96% Accuracy 
Obese/Dark skin patients. 
Agitated & restless patients. 
Thalassemia patients. 
Hemophilia patients.
Renal failure patients.
Multiorgan failure patients.
Carcinoma patients.
geriatrics patients
Pediatric patients
ADVANTAGE:-
Avoid multiple needle prick
No treatment delay
Patient pain is reduce
Improves site selection
Portable
*Warranty : 1 Year