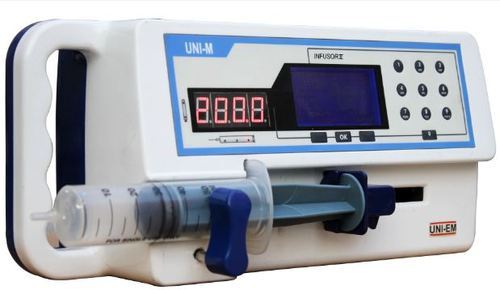 UNI-EM SYRINGE PUMP
Support all types of syringe 2ml 5ml 10ml 20ml 30ml 50/60ml
Flow accuracy +-2%
Keyboard input, easy configuration
External power supply to reduce risk of power
Multi language support
Terms and Conditions
30-day money-back guarantee

Shipping: 2-3 Business Days
DETAILS
5 infusion modes are available to meet theneeds of different departments. 360-degree rotatable machine clamps can befixed in both horizontal and vertical directions to meet the needs of theclinical environment. 2000 historical records are available for review andexport, and the R232 interface is available for users to follow. Navigationmenu design, multi-parameters can be set freely, intuitive and easy tounderstand, easy and simple.
Large-screen TFT display, adjustable screenbrightness, still as clear as 2 meters, which is good for real-time observationof data;
Compact design concept, easy for users to stack and save medical space;
Use panel materials that are easy to use for medical disinfection andcleaning to ensure clinical cleanliness;
Comply with IPX4 high waterproof rating for all clinical applicationscenarios;
DPS dynamic pressure monitoring, multi-pressure alarm level, real-timeprotection of patient safety;
Automatic blockage of tubing blockage to protect patients from pill doseinjuries
Automatic or manual Bolus can be switched at will
Online infusion speed adjustable function ensures that the pump can stilladjust the infusion speed to meet various clinical application needs;
Large-scale wide-angle TFT color warning light, the alarm display is clear,and the patient safety is protected in real time
Large capacity battery, support 8-10h power supply, easy to transfer.