Romsons Ventilator Circuit with Double Water Trap, Each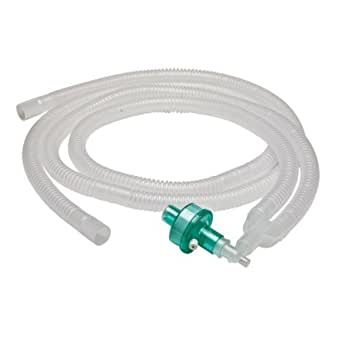 Romsons Ventilator Circuit with Double Water Trap, Each
Terms and Conditions
30-day money-back guarantee

Shipping: 2-3 Business Days
Product Description :
Ventilator Circuit Romsons - Mechanical ventilation often functions as a supportive measure for patients during acute illness. It helps to take away the patient's breathing effort, provides required amount of breathing gas and ensuring oxygenation to the patient. Romsons have four different models to suit the different kind of ventilating machine. It is available in below mentioned configuration,please see features & specifications.
Features & Specifications :

V.C WITH SINGLE WATER TRAP AND DOUBLE WATER TRAP
22 mm male and 15 mm female Angle connector with luer port.




Parallel connector with patient port for temperature monitoring & capnography.




22 mm corrugated tube of 78 cm with single and double water trap.




22 mm female / male circuit adopter.




Extra tubing with circuit adopter, provided for humidifier.




Circuit is ETO Sterile.



VENTILATOR CIRCUIT WITH FIXED ELBOW
22 mm male / female parallel connector.




1.6 metre / 22 mm corrugated tube.




22 mm male / female circuit adopter.