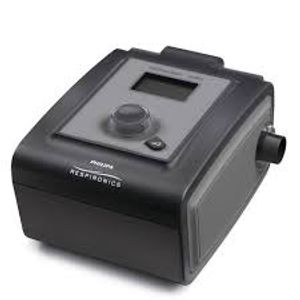 Respironics BIPAP PRO
BiPAP Pro system offers high quality sleep therapy for the patients with sleep apnea. Philips BiPAP Pro with Bi-flex can be used in the home or hospital/institutional environment.
BiPAP Auto with Bi-Flex technology enhances patient comfort by making the BiPAP therapy more like natural breathing by delivering pressure relief. It continually monitors and adjust to a patient's changing therapy needs with clinically proven algorithms, including the adjustable EPAP.
Terms and Conditions
30-day money-back guarantee

Shipping: 2-3 Business Days
Specifications for Philips BiPAP Pro BiFlex 60
Pressure Range: 4-25 cm H2O, 0.5 increments

Humidification: Fixed, adaptive humdification

Mask fit check ensure that mask is properly fit

AC Power Consumption: 100-240 VAC, 50/60 Hz, 2.0-1.0 A, 80W

DC Power Consumption: 12 VDC, 6.67 A

Filter: Pollen Filter: 100% Polyester, 88% Efficient at 7–10 micron size, Ultra-Fine Filter: Blended Synthetic Fiber, 95% Efficient at 0.5-0.7 micron size

Tubing: 22mm Standard, 15mm Slim, 15H Heated Tube

Sound Power Level: 35.9 dB(A) with an uncertainty of 2 db(A)

Warranty: 2 Years

Humidifier and Mask: Optional (at extra cost)

What is in the box ? (for sale): Device, user manual, carrying case, filter, power cord, power supply, flexible tubing and SD Card