High Purity Oxygen Concentrator 8 Litre CMWHO8L (Dual Flow)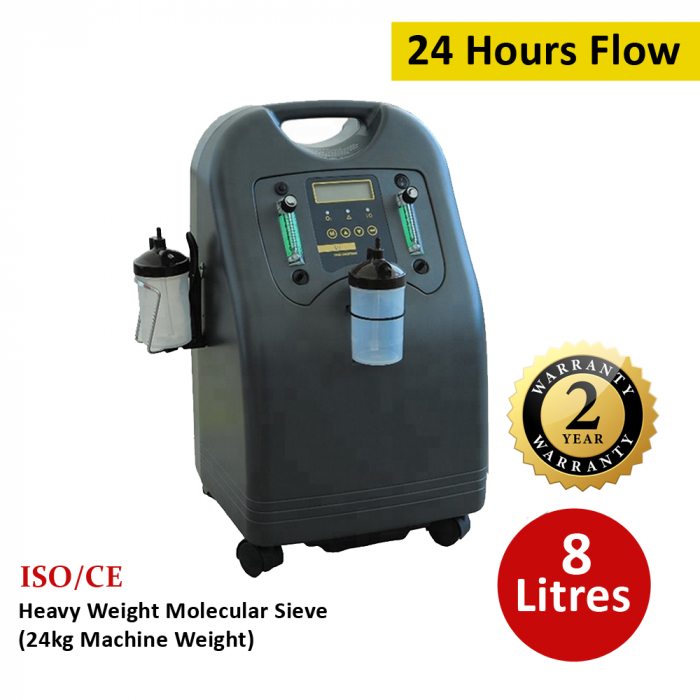 High Purity Oxygen Concentrator 8 Litre CMWHO8L (Dual Flow)
Buy Oxygen Concentrator with 8 Litres Capacity to Prevent Medical Emergencies.
- As Per WHO Standards
- 93% ±3% Pure Oxygen
- Low Purity Alarm at 82%
- CE & CFDA and ISO 13485 Certified.
Terms and Conditions
30-day money-back guarantee

Shipping: 2-3 Business Days
Details
Performance:
Flow Rate: 1-8L
Power: 480W
Sound Level: ≤45dB
Single Flow
Concentration: 93 ± 3%
Outlet Pressure: 0.04-0.08 MPA
Weight: 24Kg 
Size: L390×W337×H620 MM
Standard Functions:
Big LCD display the accumulated working hours and the present working hours.
Timing Function for working hours control.
Bacteria filter inside keep away most bacteria in air.
Intelligent Self Diagnosis System provides light and sound alarming, with data indicating on LCD the detail failures, include: Over Heat; High Pressure; Power Failure.