High Purity Oxygen Concentrator 10 Litre CMVH10L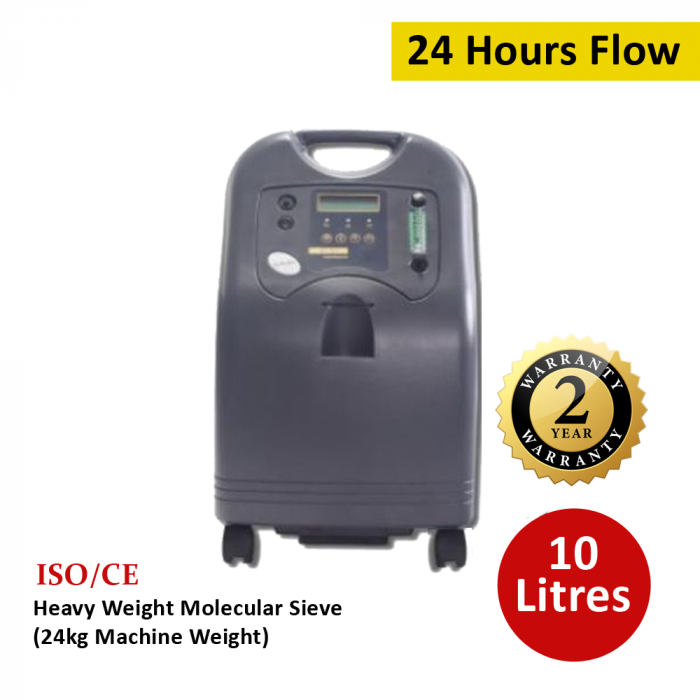 High Purity Oxygen Concentrator 10 Litre CMVH10L
Pre-Order Oxygen Concentrator with 10 Litres Capacity to Prevent Medical Emergencies.

- ≥90% Pure Oxygen
- Super Low Noise
- 24hrs Continous Working
- Intelligent self-checking system with error code showing in LCD
- Long Lifespan of Molecular Sieves
- CE & CFDA and ISO Certified
Terms and Conditions
30-day money-back guarantee

Shipping: 2-3 Business Days
Details
Performance:
Flow Rate: 0-10L
Power Consumption: 550W
Noise Level: ≤48dB
Purity: ≥90%
Working Voltage: 230V AC
Outlet Pressure: 0.04-0.08 MPA
Weight: 25Kg 
Size: L390×W337×H620 MM
Standard Functions:
Big LCD display the accumulated working hours and the present working hours.
Timing Function for working hours control.
Bacteria filter inside keep away most bacteria in air.
Intelligent Self Diagnosis System provides light and sound alarming, with data indicating on LCD the detail failures, include: Over Heat; High Pressure; Power Failure.