ResMed Elisee 150 Ventilator (Refurbished)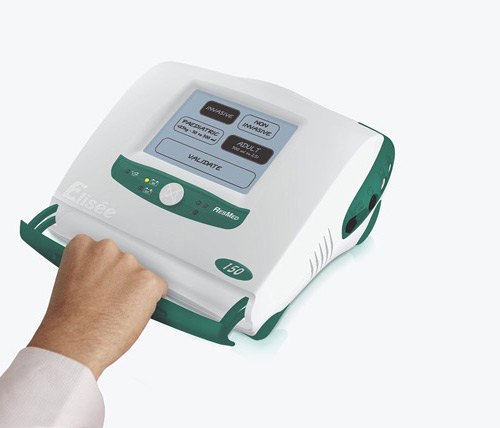 ResMed Elisee 150 Ventilator (Refurbished)
Terms and Conditions
30-day money-back guarantee

Shipping: 2-3 Business Days
Adjustable sigh and recruitment period
Patient and therapy monitoring
Essential alarms
Large touchscreen
Effective ventilation
ICU, Critical Care and Transport
Quick to set-up, easy to use

Large touchscreen for intuitive use.

Learn circuit test for accurate monitoring of the pressure at the mask.

All ventilatory parameters viewed on one screen for convenient therapy management.

Back-lit menus and buttons facilitate usage in darkened rooms.

Screen can be rotated 180 degrees making it easy to view from different positions.

Patient monitoring, extra reassurance



Real time data on LCD screen includes FiO₂ when O₂ is connected.

Flow and pressure curves can be viewed simultaneously onscreen.

Easy to understand daily and overall statistics, trends and logs can be viewed via ResScan software.

Comprehensive data and graphic trends are easily downloaded via EasyView software.

Adaptable expiratory valve for accurate expiratory measurement with alarms.

Optional nurse call feature allows nurses or carers to be alerted remotely.

Effective ventilation, flexible choices



Wide range of ventilation applications including CPAP for adults and children with acute or chronic conditions (up to 80 bpm in paediatric mode).

Two presettable programs when flexibility is required e.g. between periods of increased or decreased activity such as day/night or invasive and non-invasive applications.

Single or double circuit to suit therapy.

Low pressure oxygen up to 15 l/min with optional oxygen cell for FiO₂ monitoring.

Lung recruitment function to help improve patient oxygenation.

Compact and portable, with rechargeable battery



Small and light, making it easy to use in transport, on wheelchairs, within the hospital and around the home.

Long-life internal battery and hot swappable external battery are easily recharged to maintain ventilation in the event of a power outage.

A range of power supply options including a 12 V DC connector, useful during transport.