Diamond Mercurial Regular BP Apparatus with velcrow cuff (BP MR 112)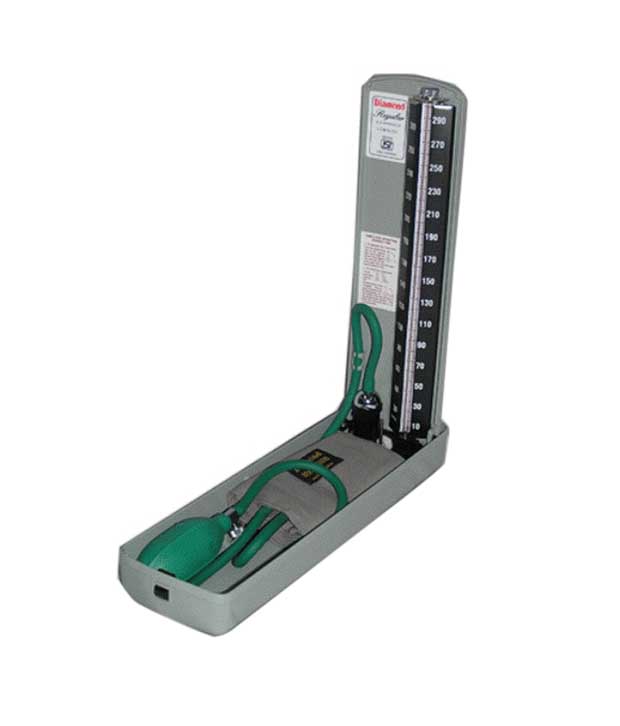 Diamond Mercurial Regular BP Apparatus with velcrow cuff (BP MR 112)
Diamond is the only brand with full range in B.P.Instruments in India. Diamond extensive range includes more than 30 models of Conventional Blood Pressure instruments (Mercurial & Dial type), Mercury Free BP Instruments (LCD and LED type) as well as Stethoscopes for all class of Doctor`s use, and Self- measuring models (Digital BP Monitors and Conventional BP with built in Stethoscope) for personal use.. Diamond Mercurial Regular Blood Pressure Apparatus
Terms and Conditions
30-day money-back guarantee

Shipping: 2-3 Business Days
Salient Features For All Mercurial Models

1)First-grade quality - virgin material used.
2)The purity of mercury 99.99% due to assured triple distillation process.
3)0 to 300 mm of Hg scale with an elegant finish, fine numbering, and durable background contrast paint for clear visibility.
4)Fused type, permanent graduation marking on the glass tube.
5)Special control valve for perfect pressure drop
6)Best quality cuff for getting an excellent grip.
7)Surface plating adapted to all exposed metal parts to prevent corrosion.
8)Classic Hi-stove painting to the body of the instrument to withstand in any climate.
9)Optimum damping effect provided for easy and fast measurement.