Contec Fingertip Pulse Oximeter CMS50D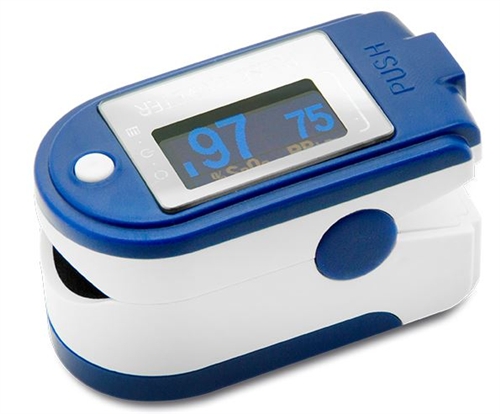 Contec Fingertip Pulse Oximeter CMS50D
Contec CMS 50D is a Fingertip Pulse Oximeter.
Operation of the product is simple and convenient.
The product is small in volume, light in weight (total weight is about 50g including batteries) and convenient in carrying.
Power consumption of the product is low and the two originally equipped AAA batteries can be operated continuously for 20 hours.
The product will automatically be powered off when no signal is in the product within 5 seconds carrying.
Terms and Conditions
30-day money-back guarantee

Shipping: 2-3 Business Days
DETAILS
Principle of the CMS50D Pulse Oximeter is as follows: Photoelectric Oxyhemoglobin Inspection Technology is adopted in accordance with Capacity Pulse Scanning & Recording Technology, the Pulse Oximeter can be used in measuring the pulse oxygen saturation and pulse rate through finger. The product is suitable for being used in family, hospital, oxygen bar, community healthcare, physical care in sports etc.
Features
Display Format: OLED Display

SpO2 Measuring Range: 0% - 100%

Pulse Rate Measuring Range: 30 bpm - 250 bpm

Pulse Wave Display: columiation display and the waveform display

Power Requirements: 2 ×1.5V AAA alkaline battery(or using the rechargeable battery instead), adaptable range: 2.6V~3.6V

Power Consumption: Smaller than 30mA

Resolution: 1% for SpO2 and 1 bpm for Pulse Rate

Measurement Accuracy: ±2% in a stage of 70%-100% SpO2

Resistance to surrounding light: The deviation between the value measured in the condition of human-made light or indoor natural light and that of darkroom is less than ±1%

It is equipped with a function switch. The Oximeter can be powered off in case no finger is the Oximeter within 5 seconds

Optical Sensor

Red light (wavelength is 660nm, 6.65mW)

Infrared (wavelength is 880nm, 6.75mW)