Bardia 2-way Foley Catheter (30cc balloon)14FR, 123614,Each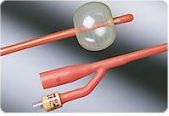 Bardia 2-way Foley Catheter (30cc balloon)14FR, 123614,Each
The Bardia Foley Catheter - A two way latex foley catheter with silicone elastomer coating.


Terms and Conditions
30-day money-back guarantee

Shipping: 2-3 Business Days
DETAILS
A specially formulated silicone elastomer coating is bonded to the inner and outer surfaces of the catheter, and remains on the catheter. The BARDIA silicone elastomer coating will not peel or weep. It minimizes encrustation, protects against irritation and enhances overall patient comfort.
Tip and Eye:
Round, smooth tip facilitates insertion and helps reduce irritation of the urethral mucosa. Notch in the tip, holds stylet properly to minimize the risk of slippage. Two opposong, smooth eye are sized for maximum drainage and positioned to reduce risk of kinking.
Balloon:
Individually made and pretested to ensure strength and symmetry, the balloon is manufactured separately to minimize potential for occlusion of the inflation eye, a problem associalted with the use of masking compounds in the manufacturing process. Bard foley balloons hold the catheter tip upright to facilitate drainage.
Shaft and Drainage Lumen:
Special latex formulation and multi-dip process provide flexibility with strong walls to resist kinking and collapse. Round, silicone elastomer coated drainage lumen enhances flow rate and prevents encrustation.
Drainage Funnel and Inflation Valve:
Drainage funnel is designed with thick tapered walls to provide secure cnection to drainage tube and to help eliminate kinking and collapse during aspiration. Inflation valve accomodates a leur tip or luer lock syringe. Self - sealing for confidence and color coded for visualisation of the French size.