Bard Magnum Reusable Core Biopsy Instrument 15GX22CM -MG1522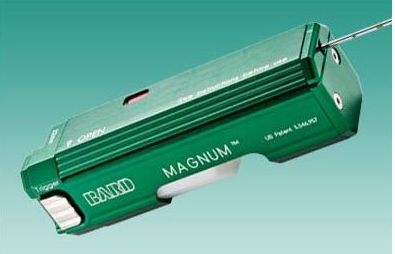 Bard Magnum Reusable Core Biopsy Instrument 15GX22CM -MG1522
Every BARD® Biopsy Instrument and Needle is specially designed to help you achieve one important goal: a large quality, reliable core sample. All needles are engineered for exceptional performance, featuring ultra-sharp tips and polished surfaces for smooth entry and exit. A broad selection of biopsy systems and needle sizes assures an ideal match with procedural needs and personal preferences.
Terms and Conditions
30-day money-back guarantee

Shipping: 2-3 Business Days
DETAILS
Powerful dual spring system for consistent, excellent core samples, rapid-fire action.
Small size, lightweight for single person operation.
One hand activation to provide easy access to the tissue sample.
Dual penetration depths for flexibility and convenience (22mm or 15mm).