3M Cast B.P. GALAXY 15cm x2.7Mtr, Box of 12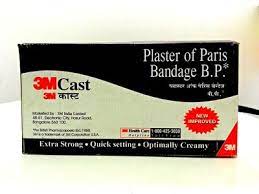 3M Cast B.P. GALAXY 15cm x2.7Mtr, Box of 12
Terms and Conditions
30-day money-back guarantee

Shipping: 2-3 Business Days
Extra Strength,Leads to superior performance and resistance to cast breakdown.
Optimally Creamy,Provides for ease of application, smooth and strong cast.
Quick Setting,Leads to more accurate bone setting, Less stressful for the surgeon during.
Application. Patients can start walking sooner.
Low Powder Loss,Enhance performance and provides resistance to cast breakdown.
Intimate Mouldability,Increases patient comfort and facilitates accurate bone setting.
Low Exotherm,Enhance patient &surgeon comfort &safety.