3M 340-4004 Ultrafit corded no case-Ear Protection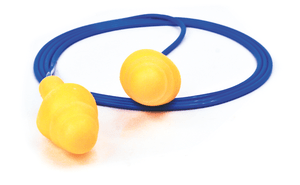 3M 340-4004 Ultrafit corded no case-Ear Protection
Terms and Conditions
30-day money-back guarantee

Shipping: 2-3 Business Days
Description
3M E-A-R UltraFit Corded Earplugs have a pre-molded and triple flange design that allows the user to insert it effortlessly in the ears. These earplugs are made of a soft polymer, which can be washed easily and reused. These ear safety plugs have a noise reduction rating of 25 dB. Thus, these hearing protection devices can be used in a range of industries like manufacturing, automotive, transportation, repair & military maintenance, and mining. It comes with a complimentary polybag, which is why it is also known as Hearing Conservation in Poly Bag. The polybag keeps these earplugs clean and fresh for reuse.
Product Attributes:
Highly cost-effective.
Long-lasting.
High noise reduction levels of 25 dB.
Triple flange design to fit most ear canals.
Benefits:
The triple flange design of the earplugs ensures that it fits most ear canals.
As they have a high noise reduction rating of 25 dB, they have added safety element.
Product Specifications
GENERAL
Brand: 3M
Colour: Yellow
Material: Elastomeric Polymer
Model: 340-4004
Noise Reduction Rating: 25 dB
Pack Size: Poly bag
Product: E-A-R
Product ID: 70071515772
Product Series: E-A-R UltraFit
Product Type: Pre-Molded/Reusable Earplugs